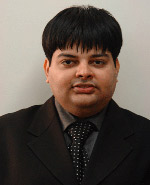 Marketing at the finger-tip In today's crowded virtual space, you need a marketer to put your website right up to the fingertips of a web surfer. Milind Mody revolutionised the global search engine optimization (SEO) industry and today, his company E-brandz is the second largest SEO Company in the world. He explains to YourStory why SEO support is a must for any online entity.
Why an entrepreneur? Why didn't you pursue a regular job?
Well, in my case it's the other way round. I guess the idea to do a regular job never crossed my mind. It all started in 1998 when I was in my first year of graduation. Soon I realised that chemistry was not my cup of tea. I joined a programming course from NIIT and four of us college friends started a software company called Compact Software Solutions. It was good exposure, fun and a decent pocket money too. We dissolved the company three years later because we lacked sales strategy and moreover the idea was just to get a hands-on experience of the market.
---
---
Something on starting years
A friend who was setting up a cyber café in Sindhudurg approached me in 2001. Together, we planned to bid for software of lots of govt projects happening there in those days. My friend also owned a mango orchard. I helped him create a website for their business of exporting mangoes. But getting traffic for the website was problem. That's when I got to know about search engine optimization (SEO). I got back to Mumbai and worked with a guy for eight months to learn more about SEO. I also started visiting many web based forums to interact with other guys and scout for SEO business opportunities. Soon I got two clients. Finally on 9th September 2003, I started e-brandz from home with my own savings of Rs60, 000.
Turning point of your business
I guess opening an office in Manhattan, New York, in 2006 was an important milestone in terms of visibility and scalability of our company's operations. Lots of our clients are from US. Anyway, getting clients was not an issue with us; real-estate was. Even in Mumbai I have to grapple with property prices for renting a bigger office space because every six months our headcount increases exponentially.
Did at any point you felt like giving up and going back to regular job?
What is a regular job? I have no idea. I am extremely happy with my business.
What drives you? What are the business differentiators of your business?
To better the best! Our biggest USP has been value for money service. We charge almost one-third of our competitors, and yet we deliver a better service. We have done almost 3500 search engine marketing projects in last five years. Right from the start we have focused on SMEs' based in America. And even though we are getting big ticket projects now we would continue to engage SMEs as I believe in volumes.
Growth/Vision for enterprise
To maintain consistency in delivering quality service. Look the kind of industry we are in, technology and processes change every six months. The algorithms of search engine are constantly changed and defined by Google, Yahoo, and MSN, and we have to change our business processes accordingly.