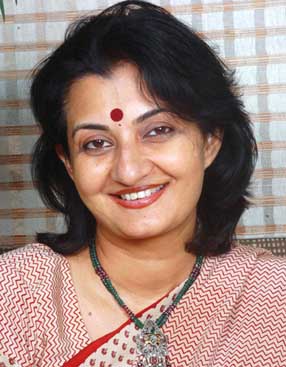 An Entrepreneur and A Missionary
Manjula Pooja Shroff has the striking good looks of a film star — flawless skin, a radiant smile, beautiful eyes and an expressive face. But thousands of children studying in the numerous schools run by her famous organisation — Calorx Foundation — are thanking God she didn't choose the world of glamour and instead followed her life-long desire to provide quality education with an almost missionary zeal. 
The calling came early in life for this 44-year-old educationist, who runs more than seven educational institutions for kids, differently-abled children and aspiring teachers. Names like Delhi Public School-Ahmedabad, Prerna School for Dyslexic Children, Visamo Kids' Foundation, The Calorx School and Calorx Institute of Education-Ahmedabad are pillars of the educational empire Manjula has built in the last 13 years.
---
---
In her college days, while others her age were dreaming about having boyfriends and getting that expensive facial done, Manjula was busy chalking out plans for "creating quality schools".
"To me, education is a fundamental tool in building a healthy society. Education provides life-transforming opportunities and instills values in children, who are the future of any country," said the entrepreneur, who has a postgraduate degree from IIM-A and is an Honorary Fellow of Australian-Asian Institute of Civil Leadership.
When asked why she decided to start Calorx Foundation instead of pursuing a regular job, Manjula replied, "I always believed I possess the basic qualities that make a successful entrepreneur, like risk-taking, a long-term vision and an ability to lead. I'd say if you want to fulfill your dream, you have to take that proverbial plunge."
The director of the foundation said unlike today, aspiring to start one's own business venture in "her days", especially for a woman, was akin to inviting unwanted trouble.
Manjula said, "I started out at a time when young entrepreneurs were few and far between. Being a businesswoman was also quite uncommon a decade and a half ago. These two factors caused some delays because people hardly took me seriously. But I persisted and finally, my dedication to my concept bore fruit."
What was the turning point in your career? "During our 10th year celebrations, we launched our own brand, CALORX, which I think was the turning point in my career because it opened up a host of opportunities," replied Manjula, adding, "Prior to that, the Foundation concentrated on inward growth and apart from the DPS franchisee, only social projects such as Prerna and Visamo Kids were started."
The entrepreneur said it is her unbridled passion for providing good education and the need to constantly create and innovate that drives her to meet higher standards of performance. Besides, the elegant lady simply loves children.
Talking about the business model on which Calorx operates, Manjula said her Foundation is a non-profit, professionally managed and self-sustaining autonomous institution with excellence in education as its main objective. Absorbing the latest innovative techniques to achieve this goal is also a priority.
The scaleabity model replicates Calorx's various units namely:
The Verticals: Calorx Pre-schools (Nursery-Prep-KG)
                         Calorx Public School (K-12, National Curriculum)
                        Calorx Institution of Education (Teachers' Training)
The Horizantals: Prerna for the Dyslexics
                         The Calorx School (K-12 International Curriculum)
When asked what are the drivers of her enterprise, Manjula said, "Our core values are collaboration, academic excellence, being continuous learners, putting the organisation above everything else and adopting a humanistic approach. Speed with accuracy is also one of our mottos."
Calorx's vision for 2010, said the entrepreneur, "is to make the Foundation the first choice for all possible target groups as far as providing quality education is concerned."
Did she, at any point, feel like giving it all up and getting back to a regular job? Manjula replied with a firm determination, "Never. I am too creative, innovative and decisive to quit being an entrepreneur. Having to run one's own venture provides the kind of flexibility and freedom that cannot be had in a mundane, 9-to-5 job."
She added further, "Although Intrapreneurship – a new term used these days for top-level executives — indicates that they enjoy a lot of the inherent freedom as does an entrepreneur, the trails, traumas and rewards of an entrepreneur are well worth the effort."
Giving valuable tips to budding entrepreneurs, Manjula said, "The first and most important step is to believe in yourself and never give up, no matter what. Learning continuously and building a body of values and ethics by following the less trodden path is also essential. Don't take shortcuts, they end too soon. And finally, remember this: it's never too late to become an entrepreneur!"
PROJECTS UNDER CALORX FOUNDATION
DELHI PUBLIC SCHOOL, AHMEDABAD
DELHI PUBLIC SCHOOL, EAST, AHMEDABAD
PRERNA SCHOOL FOR DYSLEXIC CHILDREN
VISAMO KIDS' FOUNDATION
CALORX INSTITUTE OF EDUCATION, AHMEDABAD
THE CALORX SCHOOL
CALORX PUBLIC SCHOOL
BMK INTERNATIONAL SCHOOL, RAJKOT
CALORX PRE SCHOOL(3 Centres)