What I learnt from hoarding 200 apps on my smartphone for six months
Harshith Mallya
827 Stories
Thursday May 26, 2016,
5 min Read
Hoarding, the act of collecting and storing goods because they may be useful on a 'rainy day', or for their 'emotional' significance, has long been considered one of the symptoms of obsessive compulsive disorder (OCD). A recent report on the psychology of hoarding notes that this practice has now entered the digital world too, most notably with hard drives and smartphones.
Towards the end of 2015, I upgraded to a higher-end smartphone with 4GB of RAM and 64GB of internal space, and unknowingly started 'hoarding' apps. Before I knew it, I had over 200 apps installed on my phone and constantly running in the background. After going through Vserv's 'Smartphone User Persona Report (SUPR) 2015' I realised that I was exhibiting all the signs of an 'App Junkie'.
Image credit- Vserv's SUPR 2015
Rather than avoid it, I decided to embrace the experience and see what I could learn. Over the course of six months, I found many takeaways from my 'experiment with apps'-
There has to be a method to the madness
While some systems may look extremely disorganised and chaotic to an outsider, 'organised chaos' can be effective. I was able to effectively organise and manage close to 210 apps through an app launcher- Apus. Similar apps were organised together, and I was also able to quickly access them alphabetically through a 'slider menu'. Apus also ensured that I wasn't lost in the maze of all the apps.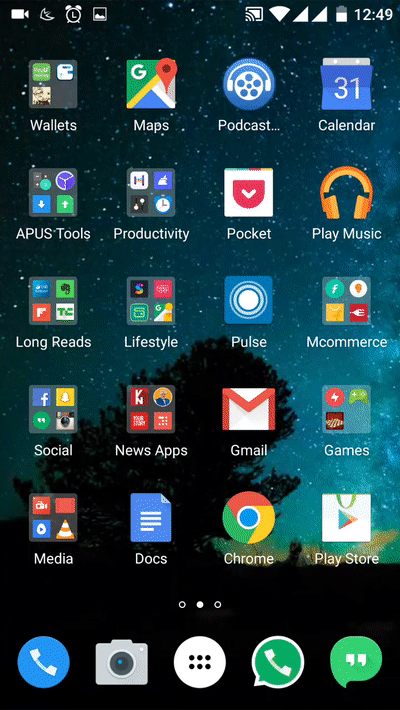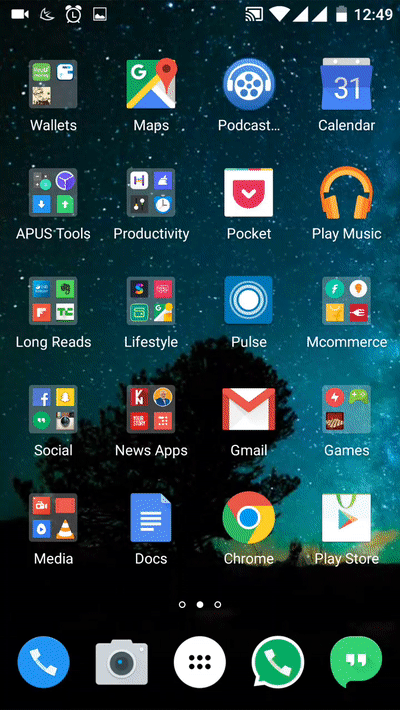 animated gif created using

MakeaGif

Push notifications can be extremely useful
According to a 2014 study, an average smartphone user receives around 65 notifications a day, a majority of which are from messaging apps. With around 200 apps installed, I was receiving a wide variety of push notifications from news, foodtech, e-commerce, and social media and messaging apps. It was overwhelming at first, but I managed to pull through by disabling or opting out of notifications that I found little or no value in.The resulting effect was ideal. I received immediate push notifications from different apps when an interesting news story broke out and could notice patterns on how different outlets covered the same story in real-time. Also, when it was lunch or dinner time, I would get push notifications from different foodtech apps and could pick from an assortments of offers, based on what I felt like eating on that day. I could also juggle between multiple social media apps and manage multiple digital wallet apps, based on the different cashbacks and discounts each was offering.
A native app experience for every situation
There's an app for almost every use case now and a native app experience is comparatively better than a mobile browser experience. Andreessen Horowitz analyst, Benedict Evans noted that in 2015, the smartphone was the sun and the centre of the tech ecosystem. Modern smartphones are also equipped with sensors that track ground-level data that PCs cannot. He said,
"Really, it's the PC that has the limited, cut-down version of the Internet."
Having disabled or opted out of notifications from certain apps, I was no longer disturbed by them, but I still had easy access to those apps when I needed them. This saved time and effort and also the somewhat sub-par experience of typing and looking up their mobile websites.
Houston, we have a problem
While things were all hunky-dory for about five months, I started noticing a lag in some apps and my smartphone's battery was draining much faster because of the sheer volume of apps constantly running in the background. I was also burning through internet data packs and had 'urban poor' Wi-Fi moments towards the end of the month, as all the app updates combined with my regular usage were exhausting my Wi-Fi bandwidth.
Epilogue
While I gained a lot of insights from the experience, I realised the importance of moderation and the downsides of hoarding too many apps. So I reset my phone and now carry around a more moderate- 100 apps that I find most useful.
The technological revolution is still expected to be centered around mobile apps for the next few years and tech giants are trying to make it easier to provide a native app or app-like experience through different means. At Google I/O 2016, Google announced the launch of 'instant apps', which would let users access apps without having to install them. We have also seen the rise of super aggregators and multipurpose apps that cater to a variety of needs.
WeChat has gained tremendous success in China with its 'app within an app' strategy. Facebook has been trying to replicate this concept and recently opened up its Messenger platform to let businesses engage with users through conversations.
Smartphones are expected to be in the hands of about five billion people by 2020, and the app ecosystem, is still considerably lucrative for developers to cash in on.
Will there be one or two 'super apps' that will rule the whole ecosystem? Or will Google blur the lines between apps and mobile browsers with 'instant apps'? It will be interesting to see how this plays out and if the smartphone revolution has an 'appy ending'.
---
Related read: What a 19-year-old app developer learnt from burning his fingers by going 'app only'
---