Voylla.com, an online store to buy precious designer jewellery and accessories at affordable prices, has raised a seven-digit figure via angel funding earlier today. The exact amount has been undisclosed The funds raised will be used for growing its operations team and will be invested in marketing the shopping portal. Vishwas Shringi, Co-Founder of Voylla said in an exclusive interview with YourStory.in "We shared our idea with an individual investor, who has had successful entrepreneurial ventures himself, and within 15 days he decided to make a 7 figure inventment (INR) with us."
"Along with marketing and advertisements, we are also looking to make investments in the expanding our operations as well. By this I mean that we would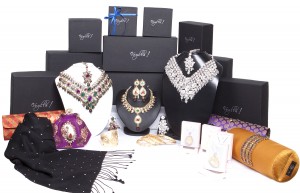 want to set up a dedicated warehouse. Right now we operate out of a single facility," said Vishwas on expansion plans.
---
---
Voylla.com sells semi-precious, precious metal, and gem stone jewellery and accessories for women. The diamond range, certified by Diamond Trade India, starts from Rs. 820 while the sterling silver range starts from Rs. 750. The accessories range starts at Rs. 500, consisting of exquisite handbags, clutches, stoles and scarves in both ethnic and contemporary designs.
Two ex-Amazonians Vishwas Shringi and Raj Uparkar founded Voylla.com in 2012.  Voylla.com  in its own words, provides easy to maintain yet sophisticated jewellery and accessories the urban woman. Along with the promises of Quality, Exclusivity, and Affordability, Voylla.com assures delivery at customers' doorstep within five to seven days from their order on Voylla.com.
The founders further shared with us that they will be looking to raise a Series A funding at the end of this year and talks regarding this are already under way.
Watch this space for more news from Voylla.com.
Click here to visit Voylla.