Hiking in Goblin Valley
All of the guide books had said that when hiking in the desert, thick boots were essential for protecting your feet. 


I hadn't worn shoes in days. The multitude of little of old ladies that poured off of the Elderhostel buses and swarmed the Moab area had been giving me strict criticism as a result.
"Oh darlin'," they'd gasp, "Where ARE your shoes?" They shook their heads as I skipped past them barefoot on the trails at Arches National Park, looking at me like one would look at an abandoned dog. Who was supposed to be taking care of that girl? To me, it seemed completely natural to go with out the hassle of bulky footwear. Growing up in Florida, it simply wasn't a summer's day with out the feel of sand between my toes. 
The whole process of socks and lace up boots seemed like tedious overkill, suffocating my feet and keeping me one layer of clothing further from the gritty earth of Utah. After all, I didn't travel to the middle of nowhere to stay cut off and held-up within myself. I went to the desert to wander, to see, and to explore and the less that got in the way of that the better. Taking up my tattered flip flops in one hand I smiled looking out over the bizarre landscape. Arches National Park was several days deep into my recent past. This was Goblin Valley, and there was no one to care about my footwear.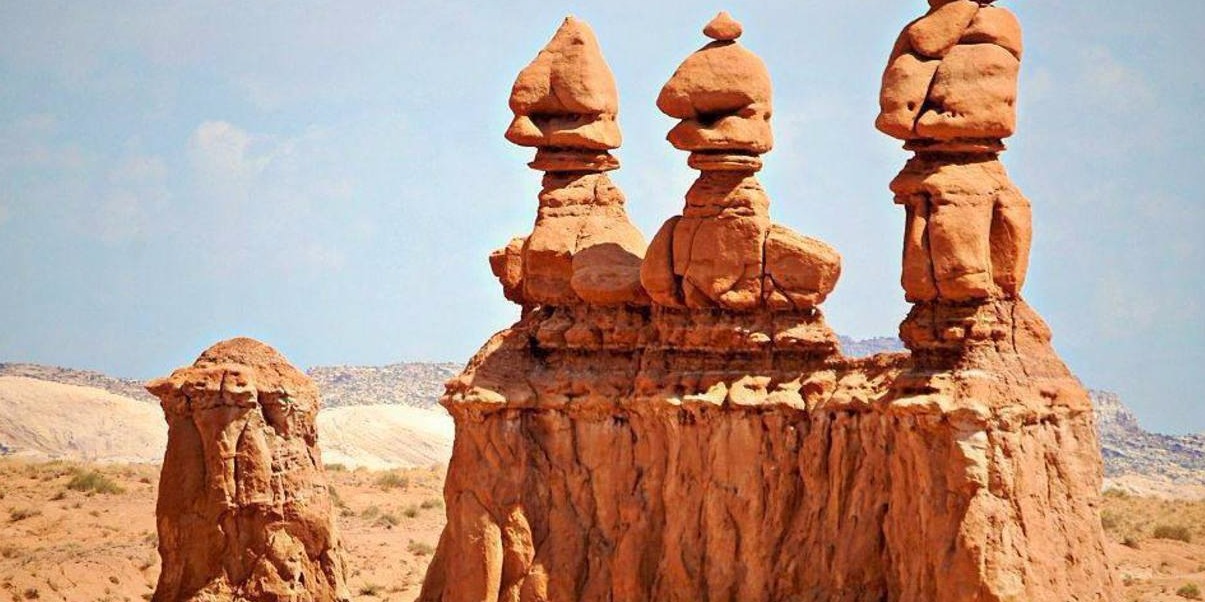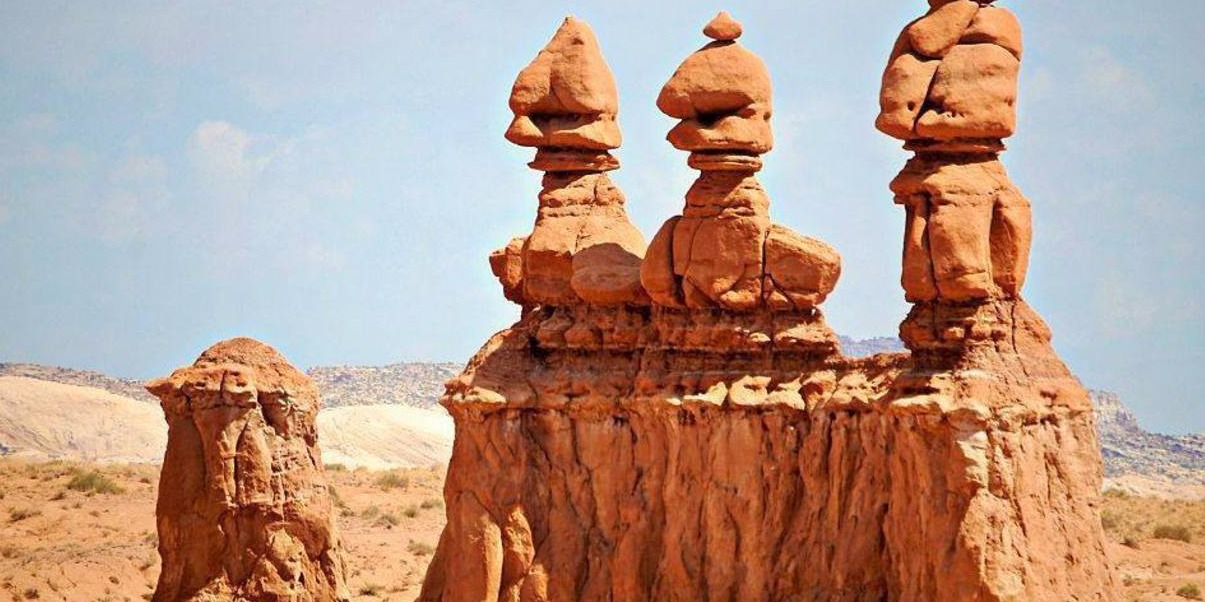 ---
Located a solid 102 miles from the tourist base at Moab, Goblin Valley gives quiet respite from all things civilized. First discovered by cowboys roaming the range in search of lost cattle, this geological playground was designated as a state park as recent as 1964. Originally the site was known as Mushroom Valley, the name inspired by the comically organic appearance that the rock formations take. Since then, the title of Goblin Valley was added, giving the park an other worldly name that suits the curious and enchanting scenery. 
Comprised of fickle Entrada Sandstone, erosion has taken it's toll is an almost artistic way. Wind and water slowly sculpted the valley from what once was a tidal flat of an ancient ocean, to the den of the goblins that it is today. With little opportunity for vegetation to take hold, the valley remains for the most part barren, leaving nothing to block your view of the rocks, and nothing to give you shade. The smooth sandstone was easy under bare feet, but the power of the sun is never to be taken for granted. Water, though once deep over the ancient ocean bed, is now a rarity so packing an extra bottle or two is never a bad idea.
Wandering through the garden of rock goblins, I had to continually remind myself that this was the planet that I grew up on. Everything was alien in appearance to me and surely would have rivaled the footage being beamed back from NASA's Mars Rover. I am not the only one to think so either. In 1999, Goblin Valley made it's big screen debut in the film Galaxy Quest starring Tim Allen, Sigourney Weaver, and Alan Rickman (to name a few). The park set the stage for an alien planet in the movie, with the film makers wisely taking advantage of a back drop that no man¬made Hollywood set could equal.
Though the film crews came and went, looking at the landscape you wouldn't be able to tell. All is as it should be, wild and quintessential Utah.
Utah, the desert state, with more wide open spaces than city land by far. Choosing how to go about exploring it is half the fun. While Goblin Valley's trails like The Carmel Canyon Trail, The Curtis Bench Trail, and the Entrada Canyon Trail all provide excellent 1-2 mile loops or out-and-backs, sticking to the trail is not mandatory. If you go, take advantage of the ability to wander and explore the goblins for yourself. I quickly lost track of time wandering in, around, and through the sandstone forest, further and further back away from the overlook and parking lot. If you would rather have some guidance in your exploration, the park offers various ranger programs including programs geared specifically for children, lessons in the sandstone geology, and guided hikes to a place known as "The Goblin's Lair", a cavern with 80 foot high ceilings and natural skylights. Mountain biking is also permitted with in the park and wildlife watching is popular, with the most commonly seen inhabitant being pronghorn antelope.
With the closest hotel being around 30 miles away, camping out in the park is a great option for a relaxed or extended visit. The Goblin Valley Campground has room for RV's but remains simple enough to please tent campers. During my stay I made use of a primitive campground site. Located in the campground but just a little bit further back from the road I was able to fulfill one of my wild west dreams by camping out alone in my own little canyon. The Valley of the Goblins is the main attraction of the park, but the scenery that the campground backs up into is equally beautiful. Even if you do not camp, making a pass through the campground parking lot is worth the little side trip just to check out the layers of multicolored rock. At the campground electricity is not available, but there is a restroom with hot showers for campers.
Recently two yurts became available for rental as an alternative to tent camping. These traditional Mongolian structures give campers the open air closeness to nature that they have come looking for, while still offering more of the comforts of home. Each yurt has room for five people and they DO have electricity as well as a propane stove for cool nights and an outdoor grill to cook on. Bunk beds, a cooler, and a dining room table with chairs are also included in the perks of yurt rental. For $60 per night these yurts are a bargain for a family group wanting to enjoy the park overnight. Tent campsites go for $16 a night for the economic traveler. Staying in the park overnight gives you the added experience of watching or photographing the sun going down, changing the glowing sandstone's vibrant colors. Being such an isolated park, Goblin Valley experiences little in the way of light pollution and making a night of star gazing a near guarantee. Whether you decided to tent camp, drive in your RV, or try out a yurt for a night, making reservations ahead of time is always a good idea. My trip took place over the Labor Day weekend, and even though the park is remote and finding room to roam alone was easy, the campground was booked to capacity.
If you decide to go, keep in mind how remote the park is. Gas up your car for the drive when you have the opportunity as gas stations become sparse in central Utah. Unlike Moab's National Parks (Canyonlands and Arches) dogs are allowed out on the trails in Goblin Valley State Park as long as they are kept on a leash and cleaned up after. If you are visiting for the day, the park opens at 6 am and the gates close at 10pm year round with a $7 per vehicle entrance fee. As always when hiking, bring plenty of water, sunscreen, and snacks....hiking boots optional.
For more information, visit the LifeUnderSky.com.
Want to make your startup journey smooth? YS Education brings a comprehensive Funding and Startup Course. Learn from India's top investors and entrepreneurs. Click here to know more.
This is a YourStory community post, written by one of our readers.The images and content in this post belong to their respective owners. If you feel that any content posted here is a violation of your copyright, please write to us at mystory@yourstory.com and we will take it down. There has been no commercial exchange by YourStory for the publication of this article.


Trending Now
Trending Stories
Latest
Updates from around the world
Our Partner Events
Hustle across India