This is a user generated content for MyStory, a YourStory initiative to enable its community to contribute and have their voices heard. The views and writings here reflect that of the author and not of YourStory.
Unfolding dreams into reality ...
A small initiative making a big difference…(Scholarships for Underprivileged students) 
Saurabh Mehrotra
1 Stories
Saturday August 20, 2016,
3 min Read
Great dreams of great dreamers are always transcended.
By A. P. J. Abdul Kalam
A young man from a small district named Sitapur in Uttar Pradesh was never a very brilliant student but definitely had the brilliance to bring about a change in others life. Hailing from a very lower middle class family Saurabh had to face a lot of financial constraints which obstructed his interest to complete his academics before he could join a job to support his family. His father working as a private agent in Post Office could not always pay for his school fees. Saurabh did a lot of research and gathered information's about various scholarships and availed them to pursue his higher education. From Graduation to Masters he received immense support to pursue his academics through scholarships. It was during this phase he realized that like him there were many other students who were unaware of the fact that there are numerous scholarships available that can support their higher education. It clicked to Saurabh that this is a big issue and needs to be addressed to the rural and urban society and wanted to do something about it to bring about a change.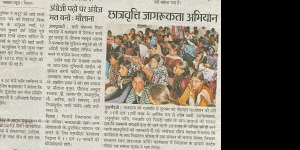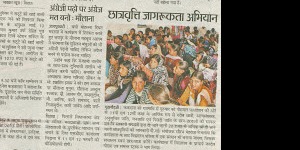 ---
Saurabh joined the Gandhi Fellowship leadership programme in Rajasthan right after he completed his MBA. Here he received a platform to reach out to high school students in a small district named Jhunjhunu in Rajasthan. The orientation seminar on scholarships was an immediate success. Students were keenly interested and were inquisitive enough to know the application procedures and criteria's. Saurabh realized that there is an actual need to address this issue and designed a project on scholarship wherein he would create a "Scholarship Cell" in schools and students can easily enquire about the scholarships and also avail support to apply for the same.
---
---
With this aim he moved to Ahmedabad and started working with Kapadwanj Kelawani Mandal Trust an NGO in Kapadwanj district in Gujarat. Saurabh seeking their approval piloted his scholarship support project and to everybody's surprise he managed to support around 6500 students to avail scholarships worth Rs 1.50 crore. The "Scholarship Cell" in Kapadwanj Trust schools is still working and is continuously supporting needy students to avail scholarships. The model has turned out to be sustainable.
In the year 2013, Saurabh decided that it is time to form his own organization and reach out to more and more needy students. Youth Dreamer's Foundation was formed aiming towards benefitting the needy youths/students. He loves interacting with students and counseling them whenever required. Saurabh wants to bring about a difference in the lives of students through his little initiative and has never given up of the thought that his little initiative is actually making a big differencing the lives of many.
Website :http://www.youthdreamersfoundation.org/
Facebook:https://www.facebook.com/youthdreamersfoundation/
Atotal of 15000 students have been sensitize about various scholarships in Rajasthan and Gujarat since 2012.In 2015-16 a total of 2600 students received scholarships worth 55 lakhs (Govt/PSU/Individual Donors) in Gujarat. Since 2013 we have managed to pilot our scholarship support programme and have supported a total of 6500 students to avail scholarships worth Rs 1.5 crore (Govt/CSR funds).
---