Founded by Arijit Bhattacharyya in Kolkata, Virtualinfocom has grown in stature and now has a presence in Kolkata, Pune, Jaipur, Allahabad and an overseas presence at New York and Nigeria. Virtualinfocom has a very wide repertoire of services which include animation, game design, simulation, comics design, FB app development, etc. apart from training.
Virtualinfocom(VIC) was incorporated as a digital design institute in 2000 and offers 19 courses including Animation, Game Design, VFX, App Development, Scripting and Digital Marketing. "For several years now, we have produced more than 5,795 hardcore skilled designers most of who are working with some of the most renowned animation studios, multimedia houses, e-learning companies, national dailies, game development companies, mobile apps, etc.," informs Arijit.
---
---
VIC has diversified its training programmers around the digital art media, whereby students have a choice to enroll a course ranging from 3 months to 2 years and can customize their course curriculum according to their own requirements.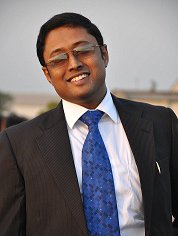 Taking a step forward, "We are making a new portal called VirtualGameDeveloper where game designers, publishers and animators can share thoughts, buy stuff related to development of animation and games, and display their creativity," says Arijit. "The plan is to fill the gap between the developers, artists, compositors, publishers, press and individual developers," he adds.
Virtualinfocom already has a music composer from Universal Studio who is providing music to sell from the portal. "There is a career guide section too for iphone, android and windows mobile app developers. There will be a job section wherein with the latest vacancies related to games, animation and apps which will be available very soon," informs Arijit.
Talking about gaming, Arijit says, "We got into gaming in India when no one took it seriously. Now, India is working on games not only on an outsourced model but in product development as well. India has a lot of capacity to build good games and create its own global identity. The future looks bright." Arijit, a self-learnt programmer had a 'thing' for technology since his early days and game design and development came naturally to him. Apps, as the case would be, is just an offshoot of that interest. "The app market is shaping up really fast, doing really good with a lot of apps with lot of creativity, but one needs to know how to develop a commercially viable application, that's where the trick lies," he says.
Talking about the future, Arijit says, "I am going to open institutes (give out franchise) in tier 2 and tier 3 cities in India. I am looking to give franchise in different countries like Bangladesh, Singapore, Nepal and Sri Lanka as well. I would like to add value in engineering colleges and management colleges on new technology and the new way of marketing," informs Arijit on a concluding note.
More on Virtual Game Developer, here.                                                                                              
Virtualinfocom also has a new site targeted at game development.