Disclaimer: This is a user generated content for MyStory, a YourStory initiative to enable its community to contribute and have their voices heard. The views and writings here reflect that of the author and not of YourStory.
Building an Amazing Hybrid Dining App Together with a UK Startup
Outsourcing company Mobilunity helped startup company fix and update their hybrid app for successful submission to Google Play and App Store.


Mobilunity announced about the start of mobile development partnership with the GLEAT team to develop the improved dining app that connects people looking for delicious homemade meal in London. The new application will include completely redone UI/UX with new enhanced communication features to deliver better social experience to all users.
First Meeting at the London Meetup for Startups
The story of partnership between Ukrainian outsourcing company Mobilunity and British startup company GLEAT started with a quick chat between the app Co-founder Reggie Torchon and Mobilunity Director of Business Development Alfonsine Williams at London New Tech meetup. UK startup was looking for a reliable company to fix their existing hybrid app MVP, which wasn't fully ready to be submitted to the App Store. The next meetup in the serie connected Alfonsine with the GLEAT CEO Mirko Lagattolla, who was impressed with the opportunity to get the dinner app fixed by the experts quite fast and finally launched. The key reasons that prompted UK company to outsource their mobile application development to Ukrainian team was the best quality/price ratio and excellent communication between both sides. All fixes in the app were completed within 10 days, and on May 26th the GLEAT app was officially released at App Store. The hybrid mobile development was done in Node.js-based Meteor and Apache Cordova frameworks with MongoDB, HTML5, CSS3 and JavaScript coding. Along with fixing common problems, escalated initially by the GLEAT team, developers created the custom API to report a user in the system and QA engineers did in-depth testing of the app before its release.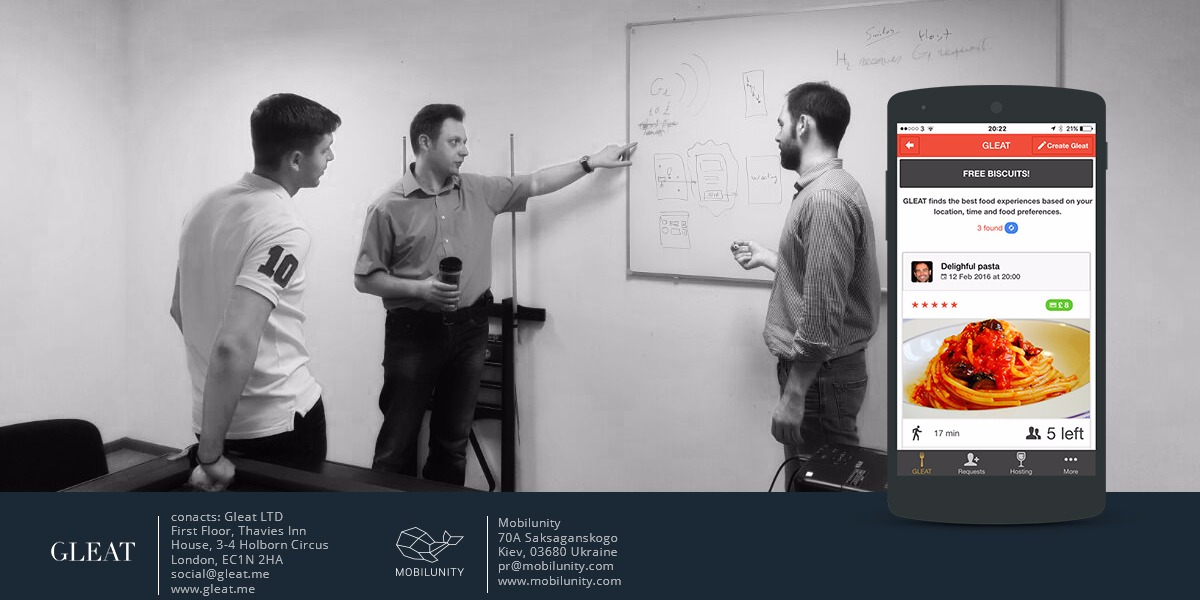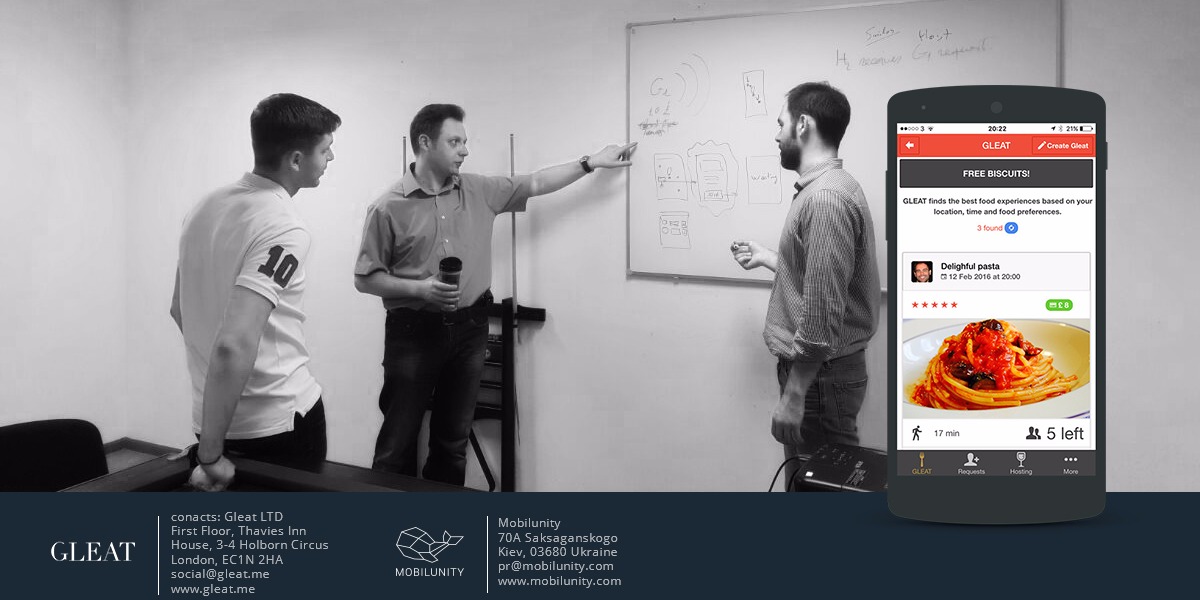 ---
Successful hybrid app bugfix became the starting point for further cooperation on the new and improved version of the dining app, which aims to deliver outstanding social experience to the users looking for a creative way to make friends and eat a tasty homemade meal. To ensure the teams are on the same path, Mirko visited Mobilunity office in Kiev on June 2nd and spent a week in Ukraine communicating with the app developers, designers, account manager and project manager, involved into the project. GLEAT CEO is sharing his experience visiting the capital of Ukraine:
"I already knew that Kiev had great developers, but i understood that there may be cultural differences to deal with, really i found that they were open, flexible, and welcoming. And Kiev has a great nightlife)."
Start of Successful Cooperation
On June 9th the Discovery phase of the new app officially started and already promises to turn into a fruitful cooperation between Ukrainian team of developers and UK team of smart creatives. Project crew working at the GLEAT app prepared the wireframes and wrote all required documentation to start the development itself. In return, Mirko says he is ready to recommend mobile application development services provided by the Mobilunity team to his partners saying that the company provides "the right balance between quality, cost and expertise."
Importance of Having App MVP for Startups
According to Mobilunity, mobile application, that reflects the main message of the project or product, is absolutely a must for any startup. Gaining new reliable investors, building a strong relationship with potential clients and development a strong online presence depend much on how effectively startup can present itself in mobile app. And app development shouldn't cost an arm and a leg - building a hybrid MVP is usually enough to get the needed coverage. Specially for startups the company started offering customized solutions, that do not make a hole in the pocket and unite all essential development, marketing and support services at the same time.
Test the improved dining app at App Store and Google Play!
0 Shares

0 Shares

Trending Now
Trending Stories
Latest
Updates from around the world