This is a user generated content for MyStory, a YourStory initiative to enable its community to contribute and have their voices heard. The views and writings here reflect that of the author and not of YourStory.
Corporate India Going Traditional
Corporate offices in India have undergone a sea change over the last decade or so. Where once the emphasis was on creating glass-covered skylines, today, with the added attention being given to sustainability, a number of corporates are going local in terms of their design. There is a conscious shift in the formal world of office spaces and it can now be seen as going back to its roots. There is a sense of pride with the use of arts and crafts from India, something that has been widely accepted and applauded world over. The use of local materials has also helped with the sustainable angle and this has ensured that spacesare more energy and cost-efficient.Indian Corporate interiors are going the traditional way these daysfor aesthetic and sometimes, even practical reasons. Take a look at some of what is happening in this regard:
Radeesh Shetty
1 Stories
Tuesday February 07, 2017,
3 min Read
Concepts of Indian Influence: The use of natural lighting in spaces alongside green pockets is being extensively used for break-out areas as well as those needed for relaxation. They contribute to creating a productive ambience in office spaces. There is an extensive use of exposed brick walls andwood. Fabrics for upholstery are Indian-inspired, and have bright colours. Earthy tones, bright oranges and royal blues among other colours are being used to classify a function and theme of a space.
Among the popularly used materials in office interiors are terracotta, bamboo, cane, wood as well as local prints and patterns. The shapes and forms employed are not too contemporary and lean more towards traditional outlines such as Mughal domes, long cones, and lotus forms and so on. There is also a trend where local art, craft and colours, are being used as patterns in spaces and designs.These are used to create niches that are decorative while being practical in nature.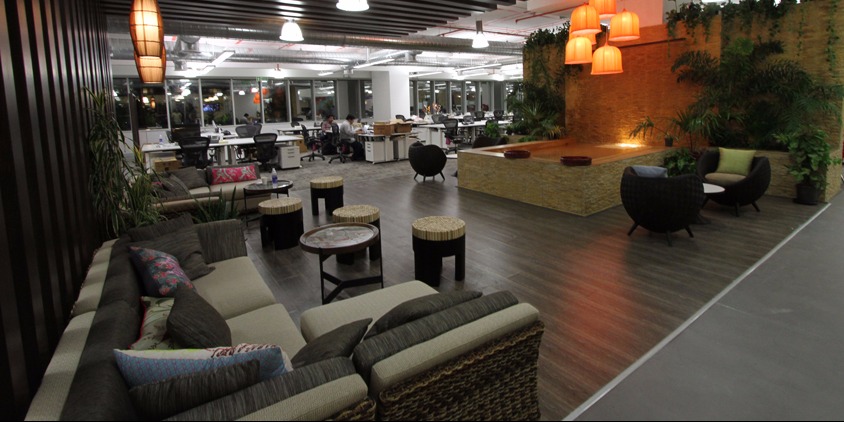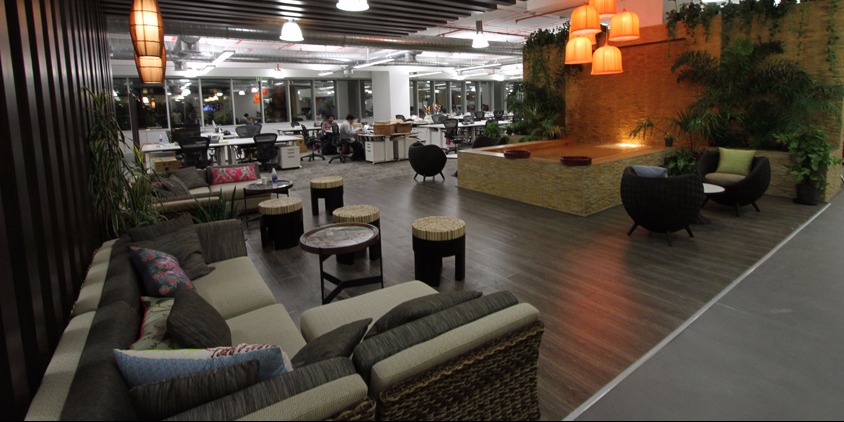 ---
Seating, India inspired: You will find that a number of offices are choosing to have unconventional furniture in their waiting areas. Such options work for those looking at a minimalistic approaches. For those looking to wow, sofa and wooden carved chairs are now available with sofa backs or upholstery depicting traditional themes. Soft furnishing is available in weaves and materials that are intrinsic to the Indian heritage. You will find a number of offices today bringing in wooden stools, decorative poofs and the like into their décor. From bold prints to simple khadi and jute, these are often used for space dividers, furnishings or even sound absorbers. Custom-printed fabric carrying company philosophies, their achievements etc., are also popularly used. Numerous offices today are also opting for open, low seating structures,creating flexible and makeshift office spaces.
Lighting it up: One of the other ways in which interiors are going traditional is with the lighting options now available. Lamp shades for ceiling, wall and floor are available in a range of locally sourced materials such as coir, raw silk, cotton, paper and more. Besides the choice of materials, designs depicting Rangoli, traditional embroidery and the like are also finding their way to these lamps. The use of inherently Indian metals such as steel and brass in the creation of lighting fixtures gives an interior designer a wide canvas to work with.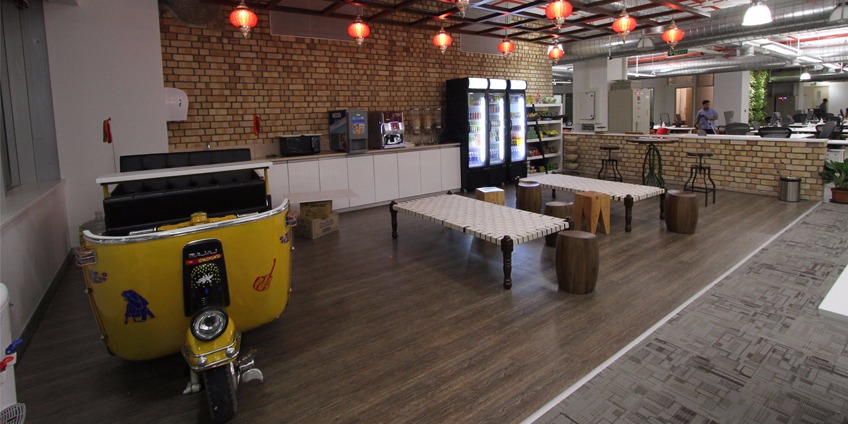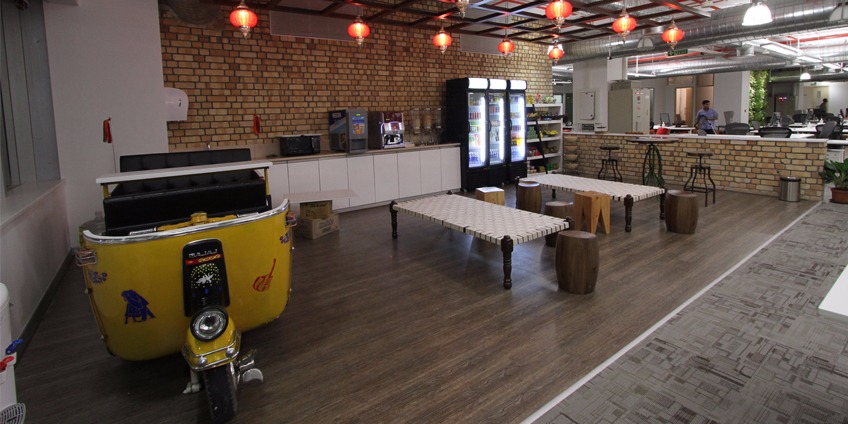 ---
Art work: It is no longer surprising to see, history-based mural work, sculptures and even designer mirrors adorning a space. In fact, traditional paintings styles of Madhubani, Tanjore art and the like have begun to adorn walls of offices. Today, décor accents are available for just about anything you need – from coasters, to wall hangings to pen holders, decorative lanterns and even room dividers – all of which can be used in a multitude of ways to enhance décor in a professional space. Accessories often pair up with the theme and look of the space form. Tiffin Dabbas, brass pots, glass jars, metal trays and sculptures made from local materials by artisans and artists often adorn lobby spaces and executive cabins
Historically, traditions have been and continue to be important to us, and it is on the basis of this that we are able to appreciate the beauty of our architectural legacies and art forms. Modern designers and architects continue to derive their inspiration from traditional methods, structures, and work around it to give it a modern outlook.Traditional interiors are the perfect union between culture and art and we are seeing an increasing love for it across the spectrum.