This is a user generated content for MyStory, a YourStory initiative to enable its community to contribute and have their voices heard. The views and writings here reflect that of the author and not of YourStory.
Best Uber clone scripts for your taxi business
Daniel George
1 Stories
Thursday January 11, 2018,
4 min Read
Use of smartphones and mobile apps have shot up exponentially in the past decade. A recent survey conveys the fact that people spend 89% of their time allotted for media, with mobile apps. Since the world is literally in our hands today, every business tries to capitalize through exclusive apps and taxi service providers are no exception.At least $20 million is lost every day by the existing taxi service providers because their customers are not able to find or book a cab easily.
While taxi services like Ola and Uber have made their mark by adopting technology before anyone else, other Uber like technologies have been gaining on them ever since. The ability to leverage an exclusive cab booking app containing all the unique facilities suited to the particular taxi service provider has made entrepreneurs welcome Uber clone scripts with both hands. Here are the top 5 Uber clone scripts that are dominating the market.
EQTaxi Solutions offers a suite of web and mobile apps (for Android and ios), which offer features suited for taxi owners and their customers around the globe. Very few products in the market offer a solution that has the intuitiveness and ease of use, that EQTaxi presents.
For the taxi business owner, it provides an incredibly useful dashboard which presents extremely useful reports, which helps in understanding the key numbers regarding daily operations with a bird's eye view. They can choose the language and currency of their choice when deploying the platform. They can look at the ratings of their drivers to make informed decisions and also read customer feedback to improve their level of service and reduce faults.
EQTaxi's administration module helps in managing every part of the operation with features such as radius management, live tracking of vehicles etc. EQTaxi puts passengers at ease with plenty of useful information such as fare estimation, time to reach the destination, complete driver profile, notifications, coupons etc. EQTaxi offers a powerful dispatcher module, which helps people who still use traditional phones and call in to book a cab. This feature gives an incredible edge to the taxi business owners over their competitors, makes the transition from older ways of working much easier and helps in managing everything using one platform.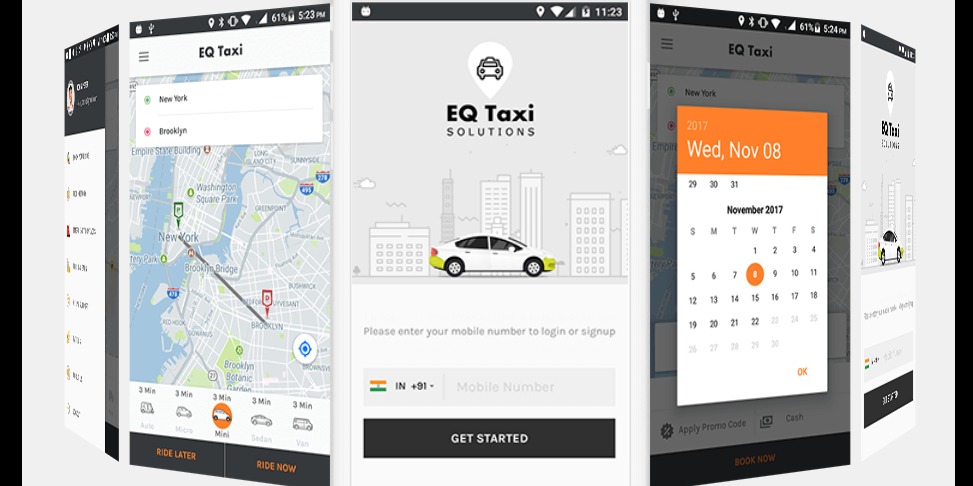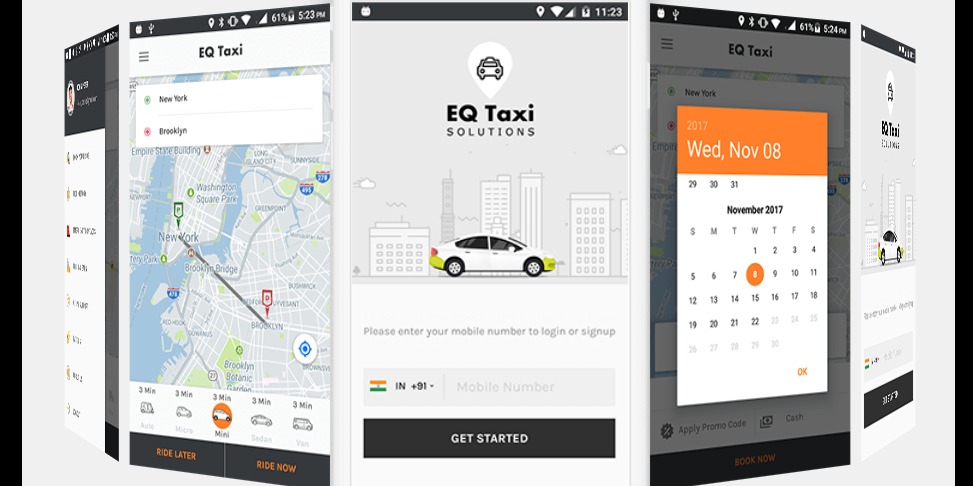 ---
Image Source: https://www.eqtaxisolutions.com/
EQTaxi's customer service is among the best in the market. They also offer free support up to 90 days.
2. Agriya – Taxi Picker:
With a user-friendly interface, Agriya holds a significant trust among the users and businesses. This taxi booking script has some attractive features like social media sign up, effective email templates, details and availability of cars and drivers, tracking facility, multiple language support etc., that are considered vital for preference.
In this clone, the users and drivers can easily add, edit or delete their own profile information. With an updated technology, their Android and iPhone apps become relevant to the requirements.
3. TaxiMobility:
From the time, which dates back to 2012, when the makers were all set to create an impact on the digitization of the taxi world, the company relied on its simplicity and effectiveness. With this script, booking is made easy for the customers and they can get extensive details about their ride. Passenger requests can be managed efficiently by the drivers. The account reports and revenue can be managed effectively.Ratings, feedback and statistics contribute for the betterment of services.
4. Zoplay:
Customization is an attribute that is noteworthy in Zoplay. With a strong team and considerable experience, this clone deserves a place on the top five. By using this script, bookings can be scheduled at your convenience and the customers are provided with alerts about the ongoing tasks to keep them informed. It has multiple payment options and the transactions can be tracked easily. There is a detailed task description and the work location can also be tracked easily.
5. Cogzidel:
Cogzidel possesses a standards-based architecture that leverages existing IT infrastructure. The push notifications facility notifies you of every new event even when you are not active in the app. This script enables the creation of a lightweight application with a secure connection. Real-time tracking helps to keep track of your movement on the map.This on-demand service solution receives requests, offer services and connects people.
Conclusion:
We hope this read was worth your time and helps you in making an informed decision. Please post your comments, as it encourages us to do more research, the next time.