A few things that the "Other Bansals" can do once Walmart buys Flipkart
Who am I referring to? Mukesh Bansal and Ankit Nagori, of course. Mukesh created & sold  Myntra, and joined hands with Ankit to create CureFit.  Now, with the new acquisition deal that sells Myntra & PhonePe to Walmart, they have a unique opportunity to strike gold in wearable fashion!
Shomprakash Sinha Roy
1 Stories
Monday April 30, 2018,
6 min Read
Disclaimer: This is a user generated content for MyStory, a YourStory initiative to enable its community to contribute and have their voices heard. The views and writings here reflect that of the author and not of YourStory.
Earlier in April, an article by Vishal conclusively explained the benefits associated with Walmart's acquisition of Flipkart subsidiaries, Myntra and PhonePe. Through that piece, we learned why (and more importantly, though often ignored, how) the hitherto un-hyped vertical businesses will eventually play pivotal roles in making Walmart relevant to the Indian consumer segment.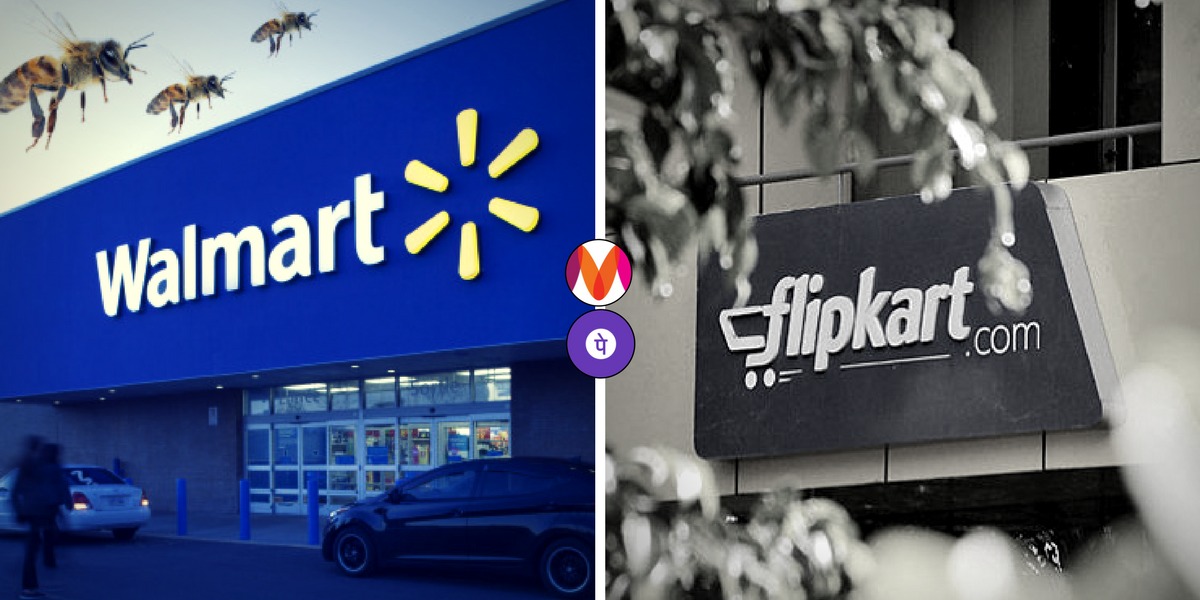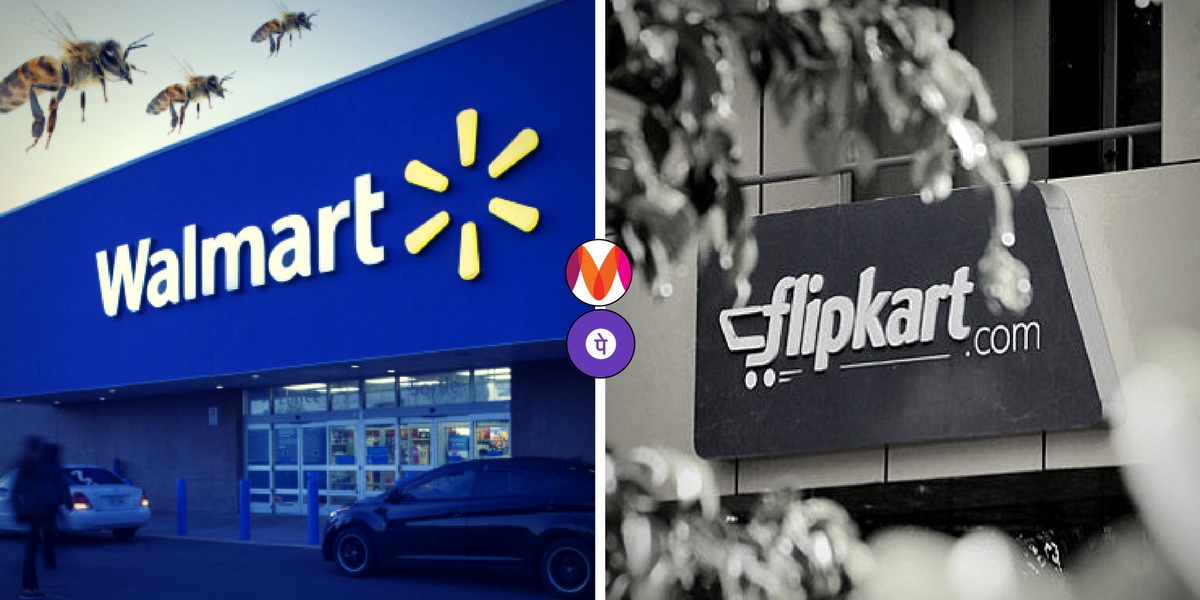 ---
Okay, so that's said and done; The deal is probably happening. To an extent, the identical look and feel of both websites since the very beginning (of time?) had given most maverick/aspirational entrepreneurial journalists such as myself a reason to speculate over possible exit strategies. The Bansals are pretty awesome at what they do, aren't they?
Here's the situation with the 'Other Bansals' post-Flipkart.
Mukesh Bansal built Myntra from the ground up, paid a great deal of attention in terms of quality control, maximum customer satisfaction, extreme logistics and a great brand to boot. And with the Flipkart acquisition of Myntra, he made a glorious exit and a fortune which he then proceeded to invest in the fitness-tech regime 'Curefit' with co-founder Ankit Nagori.
Initially, they started by acquiring the chain of training & workout centers called 'CULT', and rebranded it as cult.fit. The next piece of the puzzle was to solve for health food, as any health enthusiast would say - 70% of fitness is dependent on food intake. With Kristy's Kitchen up for grabs, the duo struck at an opportune moment and thus, eat.fit was born (and if you live in Bangalore and happen to work in Koramangala or Indiranagar or any central-millennial work location, you probably have at least 5 co-workers dependent on eat.fit meal subscriptions).
The most recent acquisition from the CureFit regime was that of A-1000 Yoga, which was then sold as mind.fit, offering on-demand classes and subscriptions to sessions for Yoga and Meditation.
But there was a pretty awkward catch in this mix. Many of my friends who were frequent users at Cult.fit's HSR-based outlets, pointed out that there was an obvious advantage to have hyperlocal access and sensitivity among customers who have already subscribed to the 'fitness-first' thought process. In short, Cult.fit was able to convince many of its users to switch to eat.fit for their food and to mind.fit for their mental wellness needs. It would be far-fetched to assume that the reverse is not also true.
Eat.fit user -> Potential cult.fit member.
Cult.fit member -> Potential eat.fit subscriber.
Mind.fit enthusiast -> Potential eat.fit subscriber.
In fact, rarely do we come across such beautifully designed, complementary customer acquisition channels that function in perfect synergy.
But that's not all that my friends at Cult.fit HSR told me.
What really caught their attention, was the fact that some of these Cult.fit outlets were already in the business of retailing wearable athletic fashion apparel, (read: gymwear) from brands such as Puma, Nike, Adidas, Reebok, etc. The difference in the endgame between now and back then (read: Myntra times), was that neither the Curefit App nor their website has displayed any signs or indications that they were going to sell clothes/athletic wearables online.
The 'Why' of the entire scenario was not difficult to guess.
Bansal built Myntra and sold it to Flipkart. As a means to protect Flipkart's competitive advantage in the fashion eCommerce space, it is easy to assume that the hefty paycheck laden exits also involved no-compete clauses, effectively stopping either Mukesh Bansal or Ankit Nagori to invest in, or run an online business that sells any type of clothing, let alone athletic wear.
---
So bad news, Curefit fans. Even though Hrithik Roshan-backed HRX tied up with CureFit, all that the combined businesses have achieved so far, are HRX Athlete Meals and HRX Athlete 'Light' meals on the eat.fit app.
---
But hold on, there's this new deal happening, and...
Yes, things are changing. As Vishal Krishna's article explains, the subsidiary businesses Myntra and PhonePe will both be lucrative parts of the deal that hands over the reins to Walmart. And along with it, there is scope for reasonable assumption that the Bansal brothers will once again have the liberty to do what they do best - sell fashion online. Only this time around, it will get much easier to market it to the right segment, because the fitness-tech audience is evolving and growing faster than ever (compelling even major players like Coca Cola to come up with Sugar-free variants of their all time sugary drinks like Coke and Thums Up Charged).
So, what will it be called?
Congratulations, we are at the end-game. If the brand needs to resonate with the existing brand identify of CureFit (Cult.fit, Eat.fit and Mind.fit), it needs to be simple, and it needs t be fit. It needs more than universal appeal to convince the existing tribe behind the Bansal pet project. So it cannot be a name like 'clothing.fit' or 'clothes.fit' or 'getgymclothes.com'. That just won't cut it.
Enter, wear.fit
---
To understand what sets such a brand apart, aside from a basic checklist of what GoDaddy was already telling us, like the '4-letter domain name', 'high value keyword', and 'frequently used keyword' stats (hygiene), we compared the highest level brand benefits to the Bansal-owned fitness tribe.
1. It stays at the top of mind for every potential user (What comes right after 'eat fit', 'mind fit'? wear fit.)
2. It is the kind of brand that asserts recall through usage, rather than relying on integrated communication campaigns. For example - What do Apple users do?They Think Different. What do 'Wear.fit' users do? They wear fit. That has worked with eat.fit in the past, and there's no reason why Happy Mcgarrybowen (the creative agency behind Curefit's brand solution mandate) cannot replicate the same with Wear.fit.
3. It is very easy to test-prototype an idea like this before approaching scale, on platforms such as Shopify, or Shopify Gold, or even within an in-app section (like the 'Shop' tab on the Curefit App).
That's really it. I believe there's a market waiting to be tapped into, to be served with a product that truly generates value, hits a niche audience and works well for people who are positioned to execute this with finesse (read: The Other Bansals). To borrow a quote from, and to answer Peter Thiel's question - this is an important truth that very few people agree with me on. If you're one of those who do, please share this article? Or you can write to me at [email protected] - I would love some feedback!