This is a user generated content for MyStory, a YourStory initiative to enable its community to contribute and have their voices heard. The views and writings here reflect that of the author and not of YourStory.
Snapchat Ads in India – The Complete Guide
Snapchat ads are finally live in India, here is all you need to understand them.
Syed Mamoon Hasan
1 Stories
Wednesday November 01, 2017,
3 min Read
---
World's youngest social network, Snapchat has opened itself to Indian brands to advertise on it. In this post, I tell you all about Snapchat ads in India and help you determine if you should start advertising on Snapchat if you are an Indian brand.
Why advertise on Snapchat? Because it still commands a lot of attention.
An average Snapchatter spends about 25-30 mins using the app daily.
More importantly, 60% of them are creating new stories rather than consuming their friends' stories, the content creation on Facebook is dropped while consumption has gone down.
An average Snapchatter opens the app more than 18 times a day.
Those are impressive figures after Instagram copied them and delivered a punch to the gut.
Snapchat Indian Stats
1. Total advertisable audience size in India is 7,050,000. The United States is at 92M.
2. 2,475,000 males and 2,025,000 females. Snapchat couldn't determine gender for the rest.
3. One in every 4th user on Snapchat is on iOS.
4. 94% of users are between 13-34.
5. The 18-20 age category is the most populated with 1.75M people.
6. The audience is highly urban and has high disposable income.
The population of Snapchat users in the Indian States.
Only state level targeting is available for now, city and pin code targeting would be available in India soon.
Note – Treat the below data as relative because as the number of Snapchat users grow these numbers would change over time.
Location Audience Size
MAHARASHTRA 1,325,000
DELHI 1,200,000
CHANDIGARH 625,000
GUJARAT 550,000
KARNATAKA 425,000
TAMIL NADU 225,000
MADHYA PRADESH 200,000
UTTAR PRADESH 175,000
RAJASTHAN 150,000
PUNJAB 100,000
ASSAM 75,000
HARYANA 75,000
BIHAR 50,000
KERALA 50,000
ANDHRA PRADESH 25,000
CHHATTISGARH 25,000
JAMMU AND KASHMIR 25,000
JHARKHAND 25,000
PUDUCHERRY 25,000
TELANGANA 25,000
ANDAMAN AND NICOBAR ISLANDS < 1,000
ARUNACHAL PRADESH < 1,000
DADRA AND NAGAR HAVELI < 1,000
DAMAN AND DIU < 1,000
GOA < 1,000
HIMACHAL PRADESH < 1,000
LAKSHADWEEP < 1,000
MANIPUR < 1,000
MEGHALAYA < 1,000
MIZORAM < 1,000
NAGALAND < 1,000
ODISHA < 1,000
SIKKIM < 1,000
TRIPURA < 1,000
UTTARAKHAND < 1,000
WEST BENGAL < 1,000
What are the advertising options on Snapchat?
---
Snapchat has the following three advertising options. Out of these three Lenses and Filters are not yet available in India, only Snap ads are available. Snap ads are not yet out on a self-serve model in India so you have to contact a Snapchat Agency agency like A&B to run the ads.
Snapchat Ad Options in India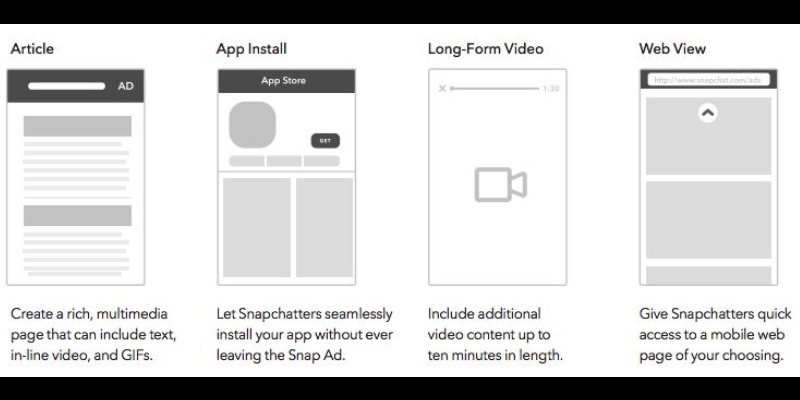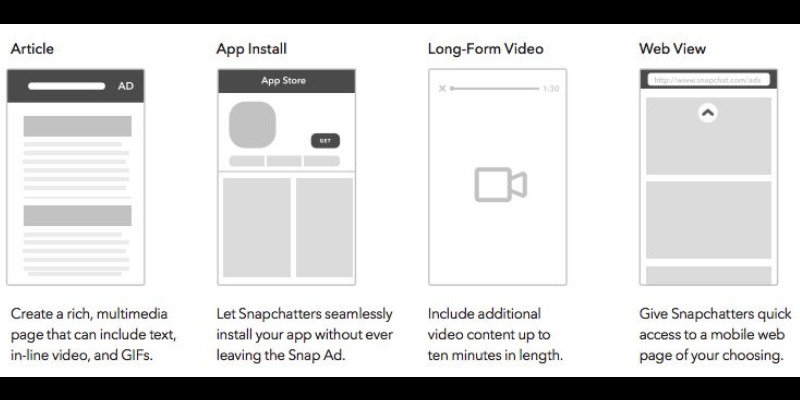 ---
Ad
How are Snapchat ads different from Facebook or Insta ads?
1. Two-thirds of all Snap ads play with audio on
2. Truly vertical video format optimised only for the phone
3. 5x swipe up rate vs average CTR on comparable platforms
4. Audio on by default, this is a big upside against Facebook where most ads have audio off.
5. 100% native, no browser, preloaded mobile websites, instantaneous use leading to an 80% lift in on-site time
5. App Install ads actually install the app in the background without leaving Snapchat
Targeting Options available in India
Age targeting
13-17
18-20
21-24
25-34
35+
Languages – Major languages of the world, Hindi is not available
Custom Audiences – upload the email IDs of people you want to target
OS – Android, iOS
Device make – The exact phone you want to target
Gender – Male, Female or both
Interests – Similar to Facebook but my belief is it would not be too accurate. How would Snapchat know if I am interested in entrepreneurship if that sort of content is not consumed by me on Snapchat?
Final Word:
If your product/service appeals to the urban 13-34-year-old then you must, otherwise, you can wait, for now. Examples-
Dating apps, online grocery, electronics, education products, gaming products should totally do it.
Real estate, Investment companies, pension funds, golf courses maybe should wait.
You get the point, Urban, young – Hell yes!; everyone else – Not so much.
Share this with a friend who works in marketing.
Want to know more about me, read here.