Digital marketing is the key to hold an in-demand profession. Recognizing the importance of digital marketing, brands are getting super active to focus on digital marketing and hence the digital marketing skills are in a serious demand widening its scope in the market space.Higher pay and multiple career choices are the salient advantages of having a digital marketing career. Apart from these, there is a broad scope of digital marketing as promoting and branding business through digital media is the fastest and reliable mode of marketing to target mass audience.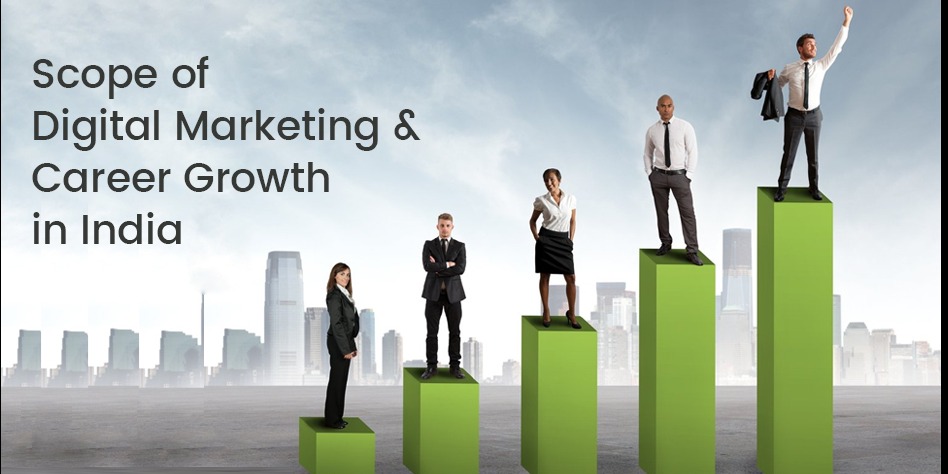 ---
The humungous growth in the number of Digital Marketing Training institutes across the country is proof enough for the anticipated possibilities in this field. This is a plus point for students seeking expert guidance to shape their career in digital marketing.
Now let's take a look at the scopes associated with digital marketing.
The scope of Digital Marketing in India and abroad
In recent times, the most sought-after career opportunity is digital marketing. Statistics show that digital marketing industry is booming worldwide - offering 8lakhs jobs in the very first quarter of 2017. Naukri.com, India's largest job portal, announced and advertised for as many as 13000 job opportunities for digital marketing professionals through its portal in the first quarter of 2018. The USA itself has generated 49000 qualitative digital marketing jobs in the year gone by (2017). However, 91% of top employers consider certification as key hiring criteria, while 48% are willing to offer a higher salary to certified candidates. So, internet marketing training proves highly rewarding for you during the hiring process.
Supporting digitization, the Prime Minister of India has come up with the idea of digital India. And it acts as a promotional campaign for digital marketing resulting in many more job opportunities for youth to a great extent. Hence, there is nothing regional; it's a national alarm for graduates of India who all are looking for an inviting career.
Now let's have a brief on the advantages of a digital marketing career.
Advantages of choosing Digital Marketing as your career
Massive job opportunity
Being reliable, eco-friendly, reachable, influential, user engagement and measurable digital marketing is the magic tool for brands and businesses. As more and more entities join the online bandwagon for a wider market-reach, the job opportunities in digital marketing are ever-growing. Unlike other sectors of employment, this arena is an all-season field. It's too inviting to turn a blind eye, folks.!
Flexibility
Digital marketing industry celebrates a very open culture. With skills and tools knowledge advancement, empiricism holds a big portion and that pushes you up for being the next level of the marketer. There is umpteen number of sub-branches within the digital marketing field such as SEO analyst, Social media marketing executive, online reputation management executive, digital marketing manager, PPC specialist and so on. And so is the remuneration package range.
 Higher paid profile
Digital marketing profession is one of the highest paid job profiles. Google says, the national average salary of the senior digital marketing manager is $95,415 and that in India is Rs 447, 346. Additionally, the average pay tends to defy the principle of gravitation – ever on the rise – by at least 30% YOY.
Digital Marketing Certification
60% of professionals consider that certification led them to a new job. Hence it is ideal to join a digital marketing institute to get certified and grasp marketing tools and techniques of experts.
This is a YourStory community post, written by one of our readers.The images and content in this post belong to their respective owners. If you feel that any content posted here is a violation of your copyright, please write to us at mystory@yourstory.com and we will take it down. There has been no commercial exchange by YourStory for the publication of this article.