31-year-old Yaagneshwaran Ganesh, a.k.a YG, is a marketing enthusiast, author and a professional speaker from Chennai, but is known more his pet project "MarketingSync" that became a movement helping start-ups and SMBs get their marketing in sync.
Sitting across the table and chatting with him at Café Coffee Day in Anna Nagar, I couldn't help but notice the fact that today's marketers are more transient than ever, moving across geographies, industry domains and experimenting with new platforms. As entrepreneurs, more often than not, we talk of scope and scalability.
On that note, could a book project transcend boundaries and help you build a business? While we are exploring something, we usually find ourselves in an unfamiliar territory. It is important to connect, to be able to build that credibility as a marketer and be able to help people achieve their goals.
"Christian Fictoor, my conceptualizer from Enschede, Netherlands and I decided to go all in, even when we were conceptualizing the book," said the author of 'Is your marketing in sync or sinking?' as we began discussing his journey.
Their vision really took off. Following the book that launched last December, Yaagneshwaran and Christian Fictoor, began conducting workshops and were invited for keynotes on MarketingSync. It may have stemmed out of a discussion between the two founders, but they really took it to the world. They presented the concept to the Chamber of Commerce and SMB Committees of Netherlands and Germany, and then on, there was no looking back.
Since then, Yaagneshwaran embarked the dream of focussing on the Asia and Middle East community, while Christian Fictoor focusing on Europe and North America.
In India, Yaagneshwaran has been playing an active role with SMBConnect, India's largest integrated solution platform that connects SMEs and entrepreneurs across the nation and helps them build their dream ventures. He also speaks at TiE, a community that supports start-ups across the country.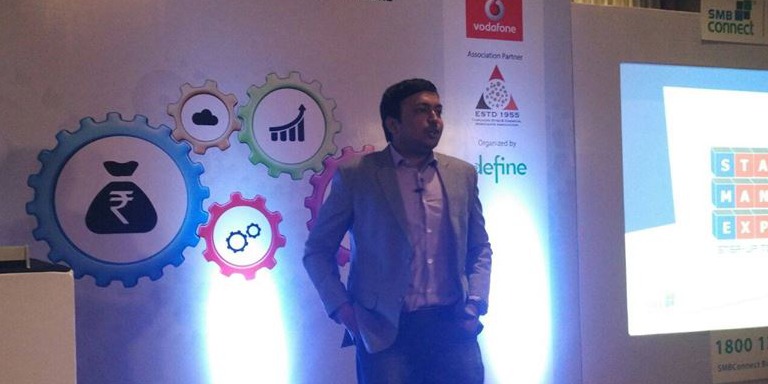 ---
Yaagneshwaran Ganesh at SMBConnect, Coimbatore.
Upon asking him, what made him go all out risking the odds, he said, "I've spent lots of years in failing at many things, right from my schooling. Call it Stockholm syndrome; you can't stop experimenting, once you begin. It is definitely not like getting operated without anaesthesia," he laughs.
Recollecting how MarketingSync was conceptualized, "What began as a 20 minute appointment with Christian over Skype, turned out to be a 2 hour conversation, and then ended up becoming a movement, I guess. As we speak, Christian is mentoring a start up in Netherlands, which won our MarketingSync coaching as the prize in The Startup Launch Camp. The guys are an enthusiastic team, and have come up with an amazing concept called #HolographEGG ", shares Yaagneshwaran.
---
Christian Fictoor (left) and the team that won the MarketingSync mentorship
As we continued talking, it was evident that he looks at books a little differently that most readers or even authors would. He believes that books don't necessarily compete with books or authors alone, but with bloggers, columnists, movies and sometimes business too and hence recommends people to have a strong reason as to whom they write for, and why.
"For us, the book is a medium to explain the methodology to people and in fact, we have come up with a dynamic ecosystem model to make organizations more manoeuvrable and less pillared. Chris often says that MarketingSync is not a thing, nor a trend but a state of mind. A state of mind your organization needs today, whether you realize it or not," said Yaagneshwaran.
The magic word as you can see is 'Sync', and the question probably is are we?
This is a YourStory community post, written by one of our readers.The images and content in this post belong to their respective owners. If you feel that any content posted here is a violation of your copyright, please write to us at mystory@yourstory.com and we will take it down. There has been no commercial exchange by YourStory for the publication of this article.