This is a user generated content for MyStory, a YourStory initiative to enable its community to contribute and have their voices heard. The views and writings here reflect that of the author and not of YourStory.
With the discount culture fading away, Digital Gift Cards provides a better option to manage customer acquisition and loyalty!
How DOBOZ is changing digital gift card landscape in India
Poorvi Thakkar
1 Stories
Thursday July 07, 2016,
5 min Read
Suddenly, the Indian start up ecosystem is abuzz with talk of the digital gift card startups. With international start up like Bouxtie planning to launch its India version by the end of 2016 (article published in TOI, July 7 2016), investors are bound to take note in this segment.
The domain itself is not new in India. There have been some players in India who run a mix of physical and digital gift card start-ups but investors had shown little interest as compared to other start up segments. This is mostly due to incomplete solutions provided by existing start-ups and also because of lack of awareness. This dynamic is fast changing to reflect fast changing consumer behaviour in India.
Today mobile telephony has penetrated almost 3/ 4 of the population, much higher than any other medium (even radio) in the country. With extensive reach of smart phones particularly in Metros and Tier I cities and increasing access to 3G & 4G mobile network, the world is changing much faster than earlier thought possible. According to a survey conducted by Quicksilver, a veteran in the gift card domain, the sales of gift cards have increased over 20 times since 2012-13. Also the mix of physical to digital gift cards sales have been shifting towards digital from 99.45% : 0.6% in 2012-13 to 42% : 58% in 2015-16. That is a tectonic shift! There is no accurate measure of the market size of gift card domain in India, but an estimation of the size can be made based on a mature gift card market like the US, where the market size for gift cards is more than $400million!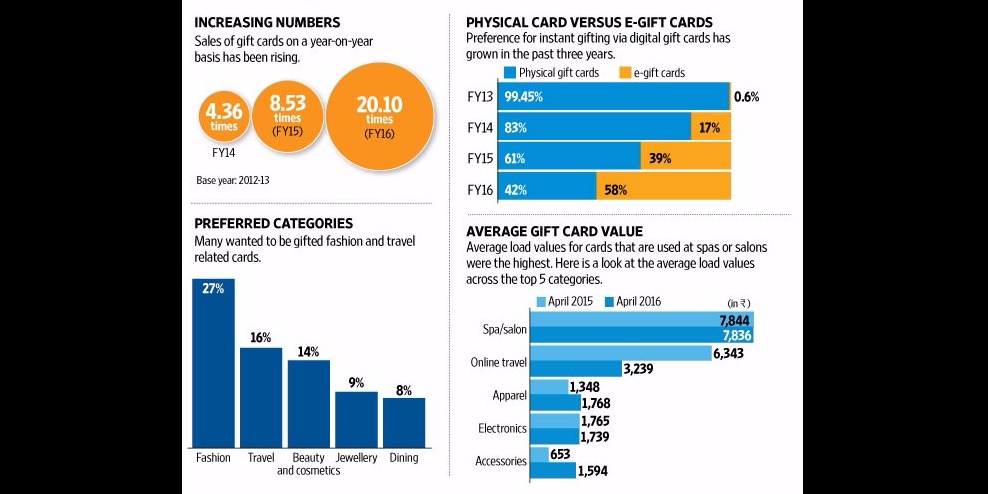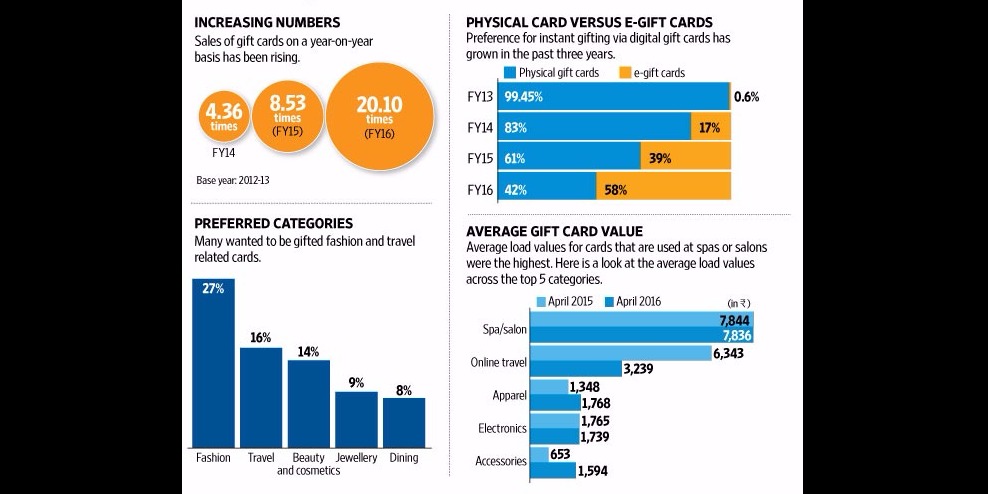 ---
The new kid on the digital gift card bloc is "DOBOZ". "DOBOZ" is a Spanish word for Gift Box. "DOBOZ" claims to provide a comprehensive solution not only for customers (B2C segment) but also for corporations and merchants (B2B segment). They also have a complete solution for merchants wherein any merchant, of any size can starts his or her own branded gift card program, run exclusively on the DOBOZ platform and App without any initial cost!
DOBOZ was started by VJTI Nagpur Alumnus and IT professional, Pravin Kamble and IIT Roorkee & IIM Ahmedabad Alumnus Ameet Siingh and VJTI Nagpur 4th Year Computer Science student Mrudul Tarwatkar in 2015. According to them, the product took 15 months to develop. The initial seed money was invested by them and since then they have grown exponentially and organically.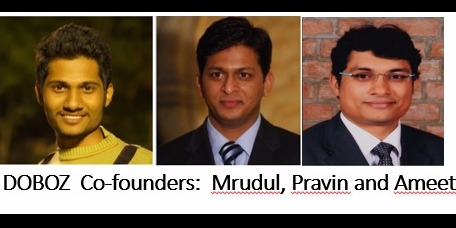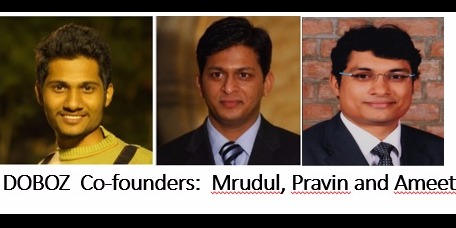 ---
The biggest advantage offered by DOBOZ, from a corporate or business perspective, according to Co-founder Pravin is that "They do not have to cough out any money upfront while ordering gift cards. They can order and gift the cards instantly without giving us any money. They are charged only at the time of card redemption. This way they not only save upfront costs but also reduce the cash crunch situation. Also, approximately 20% of cards go unutilized, so businesses can save this 20% as well. This can be a very big amount for big corporations who have big budgets for their employee incentive or channel incentive programs".
"This is a win-win situation for both employees and corporate", says other co-founder Ameet, "As an individual, a Digital Gift Card gives me the freedom of choice. So rather than being gifted the same mug, diary or flower pot every year, I can buy anything I want. For corporate, it gives them a full control over the inventory, ensuing zero pilferage and instant delivery, avoid the headache of maintaining inventory and above all, employee satisfaction and engagement. Also, with the DOBOZ App, I can transfer the card to any of my friends and family in my phone contact list or my friends on social media, if I don't want to use that card. That is freedom in real sense!"
DOBOZ gives a complete solution for corporate and merchants – a solution for inventory management, data on claim history and employee analytics in terms of behavioral spends and much more. Businesses can even opt for exclusive branding of their gift card. Each corporate can have a separate dashboard where they can see the complete set of analytics which will help them take better informed decisions next year, to save costs. The app is user friendly, the signup takes just a minute and there is no installation fee. This sounds great, but the obvious question is, how will DOBOZ make money? "We make money by charging a small cut on the face value of card of the brand which is sold over our platform", says Pravin.
DOBOZ also has an App about which Doboz cofounder Mrudul says "The app is not central to our solution but it is an enabler which complements the entire solution. So assume you receive a gift card from your boss in your inbox. So what now? Normally people take a print out and take it to merchants or note down the 12 or 16 digit number over their mobile. But if you use DOBOZ as platform and have the Doboz app, the gift card will come directly to your digital wallet and you can redeem it anywhere. Also, the app has unique features; for example you can share your wallet (value) of gift cards with your friends and family. You can make multiple wallets with different or the same cards and share it with the same or many different people. You can also partially redeem your card. There is no need to redeem the full value of the card in one go! There are many more features which you will not find in other digital gift cards solution company ".
Looks like, the DOBOZ team has indeed covered every aspect of this business and they will give a tough competition to Bouxtie, Woohoo or any other player in India.
For more information on DOBOZ, www.doboz.in, www.facebook.com/dobozapp/, https://www.linkedin.com/company/doboz