This is a user generated content for MyStory, a YourStory initiative to enable its community to contribute and have their voices heard. The views and writings here reflect that of the author and not of YourStory.
Building a killer marketing technology stack!
With limited budget and resources, what is the most optimized set of marketing technology tools you can have  for your marketing?
Vinit Tibrewal
4 Stories
Friday May 12, 2017,
4 min Read
Marketing Technology stack, or MarTech stack, is the collective usage of relevant technologies for your marketing. Even if you're using just one tool for single purpose in your entire marketing process, that one tool is your martech stack. Take a look at this sample marketing stack below. It looks like a normal arsenal for a marketer today who's reaching out to over 10,000 customers every month.
---
There are different ways to visualize the martech stack. You may also break it down to the functional categories: Tools for Awareness, Lead conversion, Lead Nurturing, Customer Conversion, Data Analytics.
But why do you need a martech stack?
Because martech helps marketers evolve with the changing needs of the customer. The tools within the stack are helping marketers get the right message in front of the right customers – at the right time. The point of building a solid stack is to optimize your marketing process and streamline the the customer journey with your brand, even after deal closure.
It's not something new. Stacking your marketing tools has been in the practice for a while now and it's only going to get prominent so much that even Gartner predicts that in 2017 the marketing technology budgets might exceed the IT budgets.
Check out some stats that re-confirms the addition of technology in marketing:
The rise of marketing technology has created new C-suite role: the chief marketing technologist (CMT). 81% of large companies (with $500 million+ revenue) now have a CMT as of January 2014—and 8% of large enterprises expect to add one in the next 24 months. -Gartner
A 2015 report found that 51% of organizations use 21 or more digital marketing solutions—a 42% increase from three years ago. – Econsultancy
Businesses that use marketing automation to nurture prospects experience a 451% increase in qualified leads. – Annuitas Group
This revolution is also validated by addition of huge MarTech products in the industry. Check out this Marketing Technology Landscape 2016 by Scott Brinker.
---
If you can't figure out what that is, it is the collection of almost all the products (around 3800) which operates in MarTech space. The list is curated every year by Scott Brinker and we have seen a tremendous increase in the martech players.
---
So while Scott brings us the landscape for 2017 with even larger number of products, let's come back to your marketing – how would you build a killer martech stack? Or what collection of marketing tools will go perfectly inline with your marketing requirements?
Your stack size may vary depending on your customer volume as well as your marketing budget. Ideally, you should aim to optimize the stack by adding just those tools that will help you achieve your goals. The best way to find out gaps in your marketing is to draw the customer journey flow and see where in the process you need a technical help.
Acquisition
Nurturing
Retention
Insights & Analytics
Communication
Productivity
See if you're smooth with all the processes above. If you see a gap, find out best value tools that can help you. Check out review websites like Capterra and G2Crowd for recommendations on the products.
What should be the ideal strength of your stack?
As stated earlier, Econsultancy's 2015 report states that 51% of organizations use more than 21 digital marketing solutions. Look at the chart below: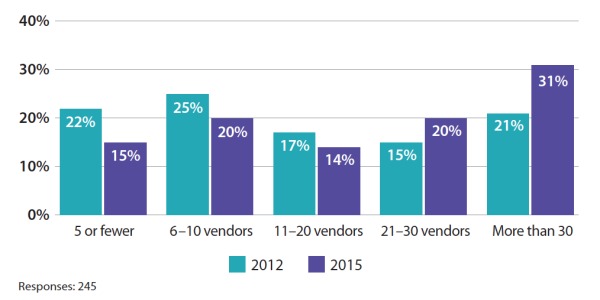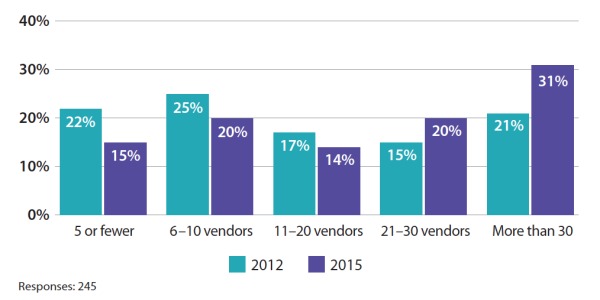 ---
21 is a huge number of tools to manage. One problem with overwhelmed martech stack is the optimization and management. If you work with so many tools, it would be difficult for you to analyze data from one tool and apply decision in another. It is always recommended to have an integrated single solution that covers almost everything in marketing so you don't have juggle between applications. This is where tools like FirstHive helps marketers hugely empower their stack without struggling with data integration between too many platforms.
Look at the stack below: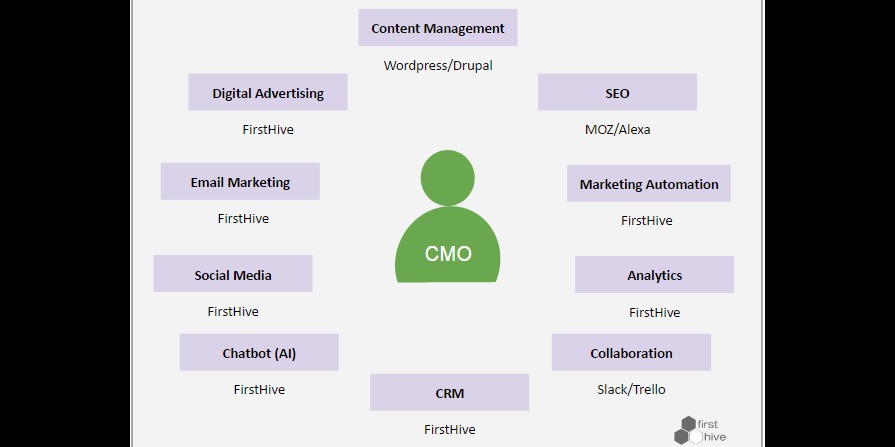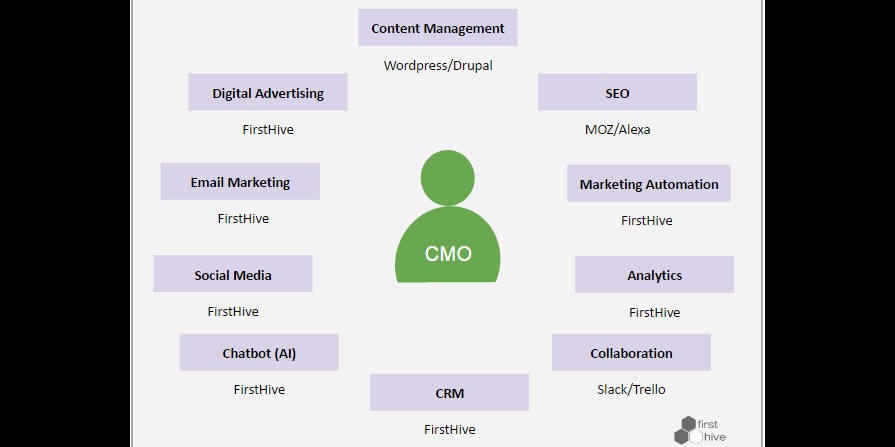 ---
FirstHive acts as a central brain to your marketing, covering the customer life journey for you. It helps in acquisition, nurturing, conversion, analytics and productivity. The biggest advantage with such single do-it-all product is that you get quality integrated data from across channels that is valuable for your campaigns. Since FirstHive can collect such vast pool of qualified customer data, it creates a customer identity for you and gives you a single window view of your customers (which you'll never get with point-products).
So stack-up your marketing technologies with smarter tools that takes you closer to your marketing goals more efficiently, without spending big bucks. Happy stacking!